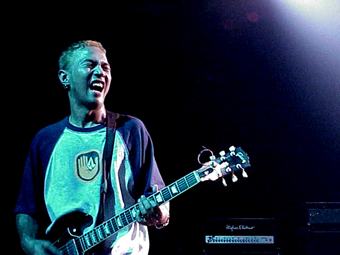 Hello! 🙂
My name is Robin Malau. I live in San Jose, California.
This is a personal blog. None of the expressed materials have any connection with my current employer, clients, and any company that I work for.
Summary
I started my entrepreneurial career as a professional musician. My band released our first self-produced, self-distributed, self-financed album when I was 21. My entrepreneurial achievements in the music industry land me honors such as Rolling Stone's 150 best Indonesian Song Ever and Indonesia Music Award (AMI Awards) in 2004. In 2006, I was among the top 10 British Council's Young International Music Entrepreneur of the Year award, and in 2014, I brought home the Young Creative Entrepreneur award. I also part of Reviewer of Mapping & Development Planning for Music Industry at the Ministry of Tourism and Creative Economy of Indonesia.
Story
My post-music professional career was spent in corporate managerial positions where I lead departments in marketing, sales, operations, and multimedia, at lifestyle international companies in English speaking environment. My latest position in corporate management gave me the experience to lead 150 employees that operate 14 branches in 5 cities (2006-2008). The company owns IDR 55 bio assets that generate IDR 26 bio annual sales.
I decided to end my corporate career, to find myself owning and running a one-man digital marketing consulting company, that operates from home and the internet for 3 years (2008-2011). I helped build, maintain and consult 20 small business organizations' internet presences from various industries. I manage around 40 websites that generate 250k pageviews monthly.
After all the things I've done as a creative professional, I felt like my heart is set as a lecturer. My lecturing career started at Pelita Harapan University in 2009, where I spent a year lecturing Entrepreneurship, Artist Management, Business Communication, Media Planning, Grant Writing for The Arts, and The Music Industry.
I found a new home in Cerahati Digital Media from May 2011 until January 2015. I am able to continue my passion as a creative professional, where I served as the company's CEO and Executive Producer for almost 4 years. In this venture, we served world-class clients such as Google, General Motors, and Panasonic, as well as the largest LCC carrier in Indonesia, Citilink. We managed to get $1 million annual agency billing in less than 3 years with only 11 employees.
Owning and running a digital marketing agency is nice, but it is nicer to develop my own product and work based on my passion rather than on client-based projects. After trying it out several times, I finally have one start-up running since the end of 2012, Musikator. We acquired more than 1 popular independent band a week and currently have a global distribution deal with Spotify, Dezer, Rdio, MixRadio, Guvera, and YouTube. Musikator also has been incorporated in the US to deal exclusively with iTunes.
At the end of 2014, I founded another startup Konserama. A B2B creative travel agent offering an unforgettable UK music experience to Indonesian professionals. The company aims to enthrall and inspire visitors through an expertly curated roster of music festivals, conferences, and other music events catered to Indonesian tastes and needs.
Starting in September 2015 I spend my free time lecturing. This time I lecture on Entrepreneurship at Binus International University, Jakarta. I end my tenure a year later to focus on my music city strategy consulting work.
By the end of 2015, I pivoted Musikator into "Think Tank Music Agency" that aims to build a new music ecosystem in Indonesia. First of many of our initiatives is Musikator Foundation. However, in June 2016, I decided to neglect Musikator and Konserama brands, and focus all my efforts on Wali Kota Musik trading name.
Update February 2018: I "pivot" Wali Kota Musik brand into my online playground dedicated to my thoughts on music urbanism.
Study
In addition to my hands-on experience managing businesses, I finished my post-graduate study at Padjajaran University in 2005, where I was awarded Magister of Management degree (MM – an equivalent of Master's degree) with a thesis, majoring in Entrepreneurship Management. I was the fastest graduate student in the history of the university's post-graduate business management program and graduated with 3.43 from an average point 4.0.
From the above experiences, I gain the following skills:
Entrepreneurship & corporate management: Start-up development, business planning, leadership, marketing management, business, and interpersonal communication, retail sales operations, event management, advertising, copywriting, operations management, HR management, strategic management.
Music business: Music production, music recording, event management, artist management, music promotor, copyright management, royalty management, music sales & distribution, music publishing, music publication, digital distribution.
Web development: Project management, search engine optimization, CSS/XHTML, php, social media optimization, information architecture, content management system, internet copywriting.
Computer: Office: Apple's Pages, Numbers & Keynote. Design: Adobe Photoshop CS 5, Adobe Illustrator CS 5, Pixelmator. Web development: Adobe Dreamweaver CS 5, Transmit FTP, Coda text editor, Screenflog, MarsEdit blog editor, WordPress content management system. Entertainment: iMovie 09, Garage Band 09, iPhoto, Adobe Soundbooth CS 5.
Connect with me:
Stop by my LinkedIn page to see my professional profile.
Thanks for stopping by. Wishing you a good smiling day 🙂
Robin Malau